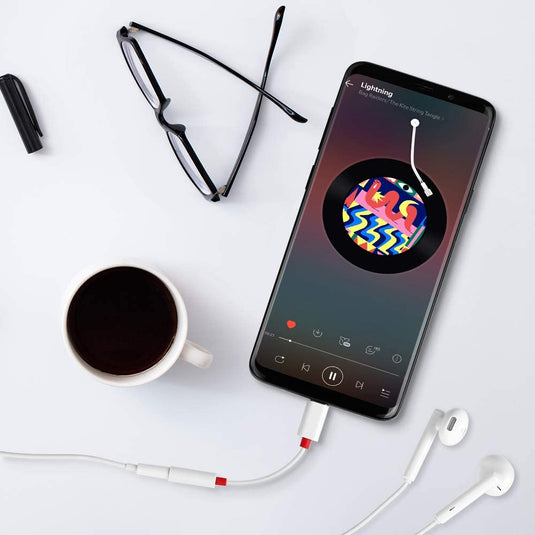 | | |
| --- | --- |
| Brand | Generic |
| Item | Connector/Adapter |
| Colors | Black |
| Count | 10 |
| Packaging  | Handle Box |
| Single Unit Price | $5.00 |
| 10 Count Price | $50.00 |


Product Information 

COUNT: This item is sold in counts of 10. One order consists of 10 individual units of the variant selected. The price of one unit is $5.00, meaning the price of a 10 count is $50.00.
DESCRIPTION: This Type-C to 3.5mm Aux Audio Connector can be used to connect any auxiliary device to your smartphone. It comes in PVC covering and is available in one color, black. 
HOW IT WORKS: To use, connect the auxiliary adapter to your headphones and insert the Type-C adapter into your device then enjoy your Music!!!
Highlights
HEADPHONE JACK ADAPTER: This adapter/connector allows you to connect traditional headphones directly to your device. All you have to do is insert the headphones into the 3.5mm jack adapter and then insert the Type-C adapter into your device. 
PREMIUM PACKAGING: This adapter is packaged in a well-designed, durable box. The box was made specifically for the product. It features an image of the adapter in the front along with its name and description. This type of packaging tends to attract customers since it is appealing and professional. The box also does a great job in preventing any physical damage, since it is packaged rather tightly.
CONVENIENT PACKAGING/DISPLAY: Another advantage the handle box packaging brings is that it can be hung on any display or hook. Hanging a product on a display increases the chances of a sale tremendously This is because displays make the product more noticeable. Customers are usually busy and do not have the time to sort through multiple items. A product hung on a display is easy to find. It presents itself clearly and in an organized fashion ultimately attracting customers and increasing the probability of a sale. Click the link to view our collection of displays.
PVC: Like most traditional cables, this  connector is made out of PVC. PVC provides several advantages. First off, it gives the cable a simple and clean look. Which attracts more customers and increases sales. It also makes the cable a lot more tough and durable. Since the outer layer protects the charger from liquid and physical damage. 
Compatibility 
Samsung Galaxy- S20/ S10/ S9/ S8/ A60/ A51/ A50/ A42/ A41/ A40/ A32/ A31/ A30/ A21/ A20/ A12/ A11/ A9/ A8/ A02S/ M42/ M40/ M31/ M30/ M21/ M20/ M12/ M11/ F12/ F02s/ F41
Samsung Galaxy Note- 10/ 9/ 8/ 7/ FE
Tab S6/ Tab S5e/ Tab Active Pro/ Fold/ Z Flip
Apple Macbooks- Air (2018 and Later)/ 13-Inch Pro (2016 or Later)/ 15-Inch (2016 or Later)/ 16-Inch Pro (2019 or Later)
Apple iPads- iPad mini (6th generation)/ iPad Air (4th generation)/ iPad Pro 11-inch (1st and 2nd generation)/ iPad Pro 12.9-inch (3rd and 4th generation)
Huawei- P10/ P10 Plus/ P9/ P9 Plus/ Mate 9/ Mate 9 Pro/ Nova/ Nova Plus/ G9 plus

LG- V60/ V50/ V40/ G7/ G6/ G5/ V30/ V20/ W41/ W31/ W11/ OnePlus 5T 3/ Nexus 5X/ Nexus 6P/ Google Pixel
Motorola- Moto G Stylus/ Moto G Power/ Moto G Fast/ Moto G Play/ Moto G50/ Edge
Headphones with Jack Adapter