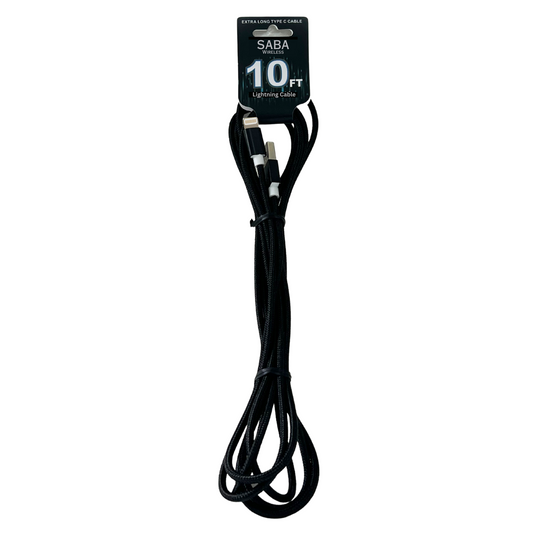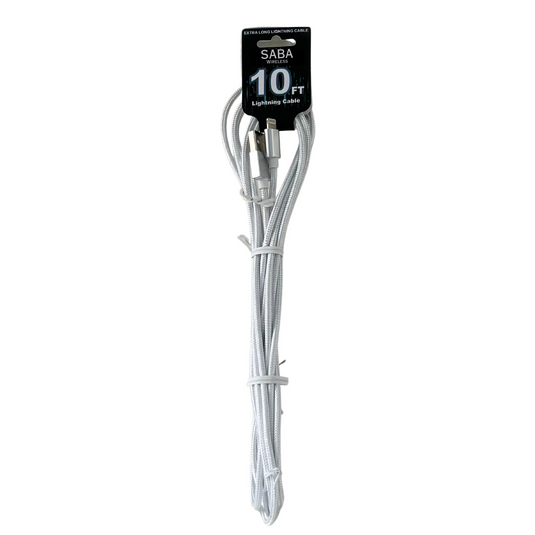 | | |
| --- | --- |
| Brand | Generic |
| Item | Lightning to USB-A |
| Length | 3m (10ft) |
| Material | Nylon Braided |
| Colors | Silver, Black |
| Count | 20 |
| Packaging  | Clear Handle Bag |
| Single Unit Price | $4.00 |
| 20 Count Price | $80.00 |
Product Information 

COUNT: This item is sold in counts of 20. One order consists of 20 individual units of the variant selected. The price of one unit is $4.00, meaning a 20 count is $80.00
DESCRIPTION: This Lightning to USB-A cable is 10ft in length and is compatible with most Apple products. It comes in nylon braided covering and is available in two different colors, silver and black. It is packaged in a clear handle bag, meaning it can be hung on a display.  It is priced at $4.00 per unit and can be ordered in counts of 20.
HOW IT WORKS: This 10-feet Lightning to USB-A cable is the ideal charger for your iPhone, iPad, or iPod. It is compatible with most Apple products. To use, insert the lighting adapter into your iPhone. Then connect the USB-A adapter to either a power adapter or a compatible computer. Both will charge your phone, however, a computer also allows you to sync information into either device.
Highlights

NYLON BRAIDED: Rather than being made of PVC like most cables, this cable is nylon braided. Nylon braided cables provide several advantages. First off, they are a lot more flexible than traditional cables. They can be bent and outstretched at a much more extreme level. They are also more durable and tend to last longer. This is because nylon is a material known for its strength and elastic properties. So, when used as covering it creates a very strong and flexible cable.
STYLISH:  Since this cable is nylon braided it is much more attractive and stylish. Traditional PVC cables tend to be very boring featuring plain and simple designs. However, nylon braided cables take a much different approach. The rough texture and braided appearance make the product quite intriguing and fashionable. 
LENGTH: This cable solves a problem that people have been struggling with since the invention of the smartphone. Traditional smartphone cables are very short, usually 3 feet in length, making it almost impossible to use your phone while it's connected. Unless you have a very conveniently placed outlet you will find yourself in an uncomfortable position. However, this cable helps eliminate the problem firsthand since it is 10ft in length. The abnormally long cable stretches a lot further then a traditional charger ensuring that consumers have the ability to use their phone no matter their battery percentage. This feature has made the product a very popular item with both stores and customers. 

Compatibility 
iPhone- 13/13 Pro/13 Pro Max/12 Pro Max/12 Pro/12/12 mini/11 Pro/11 Pro Max/11/SE (1st and 2nd generation)/XS/XS Max/XR/X/8/8 Plus/7/7 Plus/6s/6s Plus/6/6 Plus/5s/5c/5
iPad- Pro 12.9-inch (1st and 2nd generation)/Pro 10.5-inch/Pro 9.7-inch/iPad (5th, 6th, 7th, and 8th generation)/Air (3rd generation)/Air 2/Air (1st generation)/mini (5th generation)/mini 4/mini 3/mini 2/mini (1st generation)
iPod- touch (5th, 6th, and 7th generation)/nano (7th generation)
Airpods- AirPods Max/AirPods Pro/AirPods with Wireless Charging Case (2nd generation)/AirPods with Charging Case (2nd generation)/AirPods (1st generation)/Wireless Charging Case for AirPods