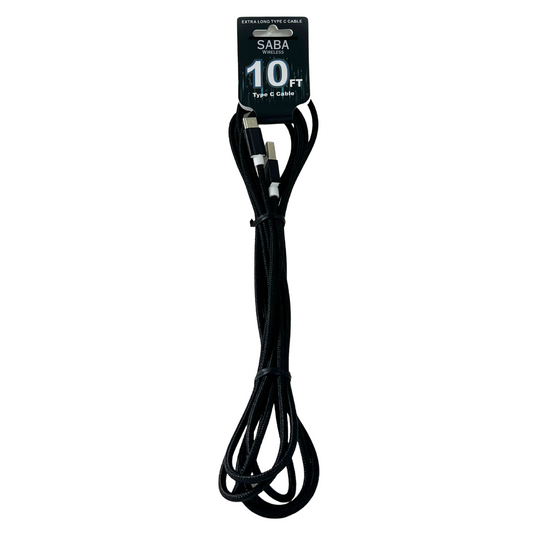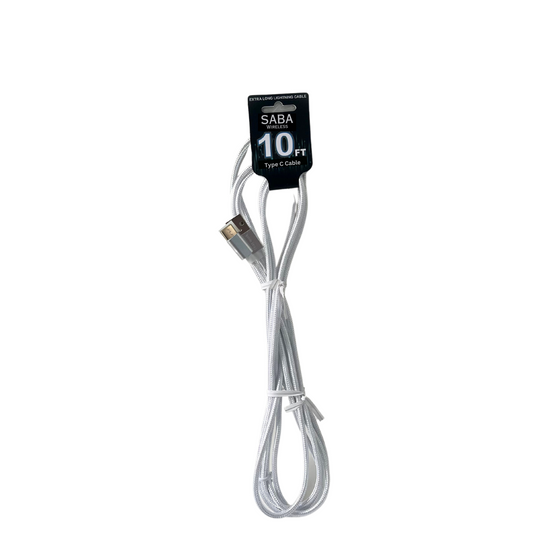 | | |
| --- | --- |
| Brand | Generic |
| Item | Lightning to USB-A |
| Length | 3m (10ft) |
| Material | Nylon Braided |
| Colors | Silver, Black |
| Count | 10 |
| Packaging  | Hanger |
| Single Unit Price | $4.00 |
| 20 Count Price | $80.00 |
Product Information 

COUNT: This product is available in counts of 20. Each order contains 20 individual units of the chosen variant. The cost per unit is $4.00, resulting in a total price of $80.00 for a count of 20.
DESCRIPTION: This Type C to USB-A cable is 10ft in length and is compatible with many different electronic devices. It comes in nylon braided covering and is available in two different colors, silver and black. It is priced at $4.00 per unit and can be ordered in counts of 20.
HOW IT WORKS: This 10-feet Type C to USB-A Cable can be used to charge several different devices. This includes Android products, Mac laptops, PS5 Controllers, and many other accessories. To use, insert the Type-C adapter into your device. Then connect the USB-A adapter to either a power adapter or a compatible computer. Both will charge your device, however, a computer also allows you to sync information into either device.
Highlights
NYLON BRAIDED: Rather than being made of PVC like most cables, this cable is nylon braided. Nylon braided cables provide several advantages. First off, they are a lot more flexible than traditional cables. They can be bent and outstretched at a much more extreme level. They are also more durable and tend to last longer. This is because nylon is a material known for its strength and elastic properties. So, when used as covering it creates a very strong and flexible cable.
STYLISH:  Since this cable is nylon braided it is much more attractive and stylish. Traditional PVC cables tend to be very boring featuring plain and simple designs. However, nylon braided cables take a much different approach. The rough texture and braided appearance make the product quite intriguing and fashionable. 
LENGTH: This cable tackles the long-standing issue of short smartphone cables. At 10ft, it offers greater reach than standard 3-foot chargers, allowing users to comfortably use their phones regardless of battery level. This feature has made it popular among both retailers and customers.
EASY-TO-HANG PACKAGING & DISPLAY: The packaging of this item is designed for effortless hanging on any display or hook. Showcasing products on displays significantly boosts their visibility, making them more likely to be sold. Customers, often pressed for time, prefer not to search through numerous items. A well-displayed product is easy to spot and offers a clear, organized presentation, which ultimately attracts customers and enhances the likelihood of a purchase. Explore our range of displays by clicking the provided link.
Compatibility 
Samsung Galaxy- S20/ S10/ S9/ S8/ A60/ A51/ A50/ A42/ A41/ A40/ A32/ A31/ A30/ A21/ A20/ A12/ A11/ A9/ A8/ A02S/ M42/ M40/ M31/ M30/ M21/ M20/ M12/ M11/ F12/ F02s/ F41
Samsung Galaxy Note- 10/ 9/ 8/ 7/ FE
Tab S6/ Tab S5e/ Tab Active Pro/ Fold/ Z Flip
Apple Macbooks- Air (2018 and Later)/ 13-Inch Pro (2016 or Later)/ 15-Inch (2016 or Later)/ 16-Inch Pro (2019 or Later)
Apple iPads- iPad mini (6th generation)/ iPad Air (4th generation)/ iPad Pro 11-inch (1st and 2nd generation)/ iPad Pro 12.9-inch (3rd and 4th generation)
Video Game Consoles- PS5 Controller/ Nintendo Switch/ Nintendo Switch Lite/ Nintendo Pro Controller
Huawei- P10/ P10 Plus/ P9/ P9 Plus/ Mate 9/ Mate 9 Pro/ Nova/ Nova Plus/ G9 plus

LG- V60/ V50/ V40/ G7/ G6/ G5/ V30/ V20/ W41/ W31/ W11/ OnePlus 5T 3/ Nexus 5X/ Nexus 6P/ Google Pixel
Motorola- Moto G Stylus/ Moto G Power/ Moto G Fast/ Moto G Play/ Moto G50/ Edge