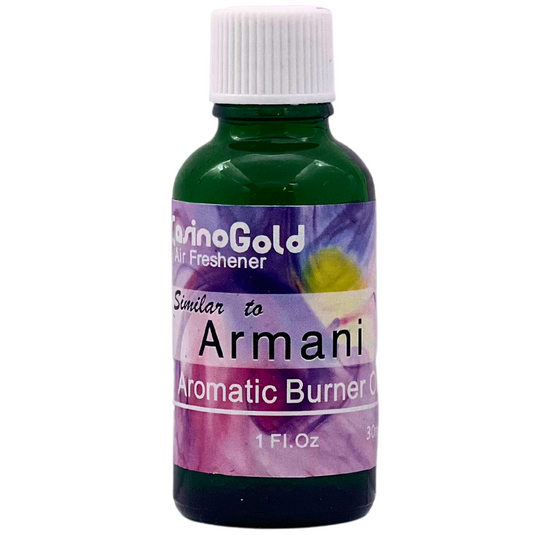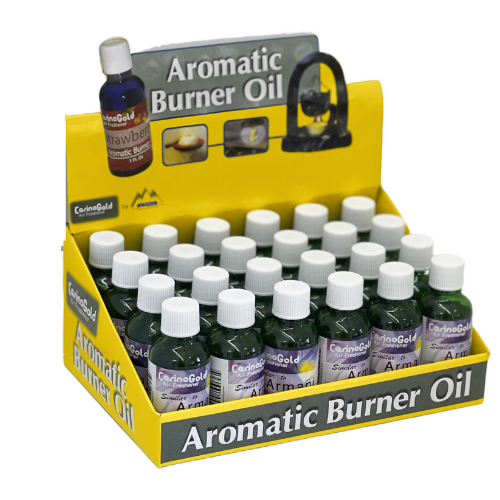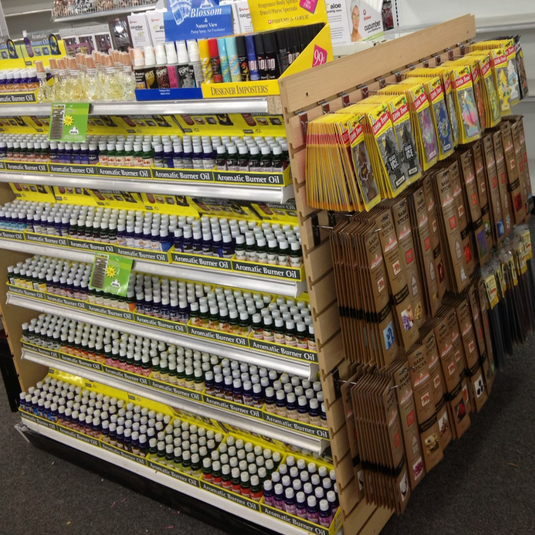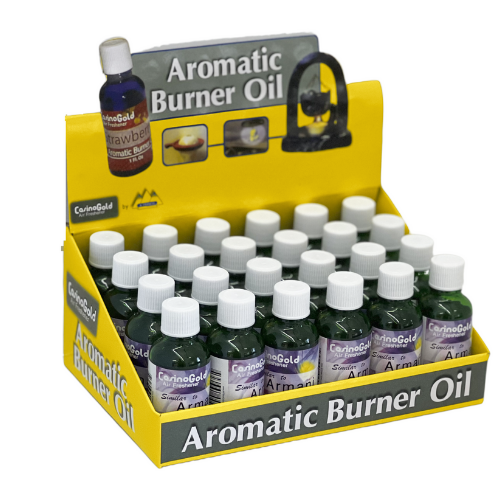 | | |
| --- | --- |
| Brand | Casino Gold |
| Item | Fragrance Oil |
| Scent | Armani Type |
| Count | 24 |
| Single Unit Price | $1.50 |
| 24 Count Price | $36.00 |
Product Information

COUNT: This item is sold in counts of 24. One order consists of 24 individual units of the item selected. The price of one unit is $1.50, so a 24 count is $36.00
DESCRIPTION: Fragrance oils are manufactured oils developed for their pleasant scents. They can be used in crafting, home scenting, perfumes, and anytime you want to create a pleasant smelling environment. 
HOW TO USE: To use fragrance oils, you will need an oil burner and a tealight candle.  Place 3-5 drops of the oil together with some water into the top of an oil burner until it's 1/2-3/4 of the way full. Place the burner in a safe location, away from children, pets or fragrance hazards. Light the tealight candle at the base of the burner. The oil/water mixture will start to heat and evaporate, scenting the room 
Highlights
ABOUT: Casino Gold is directly affiliated with Legend Distributors. We are the owners of the company and have been operating it for over 30 years. Casino Gold specializes in the production of fragrance oil. Fragrance Oil was one of the first products we started selling. As a result, we have a sufficient amount of experience in the field. We have tested multiple flavors in many different markets over the years. We have worked relentlessly to produce a variety of pleasant aromas. As of today, we offer 72 different flavors. This ensures every market, no matter the location, receives the flavors they desire.  
CUSTOMER SATISFACTION: Casino Gold Fragrance Oil can currently be found in any of our accounts in the midwest region. Stores owners have grown increasingly satisfied with the product. This is because they are our fastest moving item. No matter the location, burning oil always seems to sell. Our wide range of flavors and rapid customer service keeps the product active.  
72 DIFFERENT FLAVORS: Casino Gold has been on the market for over 30 years. We have tested and produced multiple different flavors and aromas to ensure our product is both satisfactory and profitable. The wide range of flavors ensures that every market receives the aroma they desire. 
AFFORDABLE PRICING: Here at Legend Distributors we prioritize customer satisfaction, this is why we constantly try to list our items at the lowest price possible. Our team works relentlessly to keep the cost of production down and provide our customers with a low and convenient price.