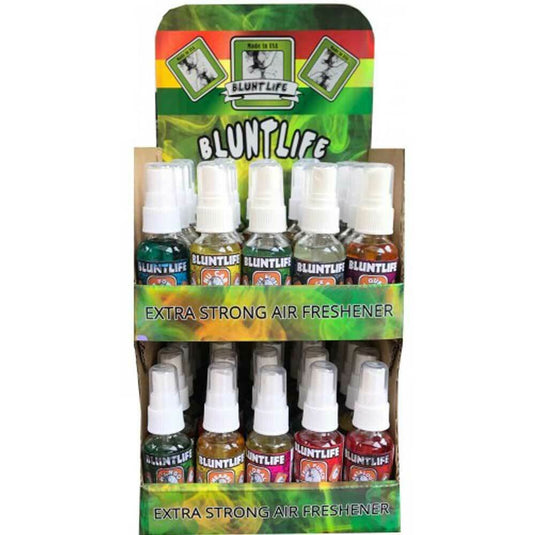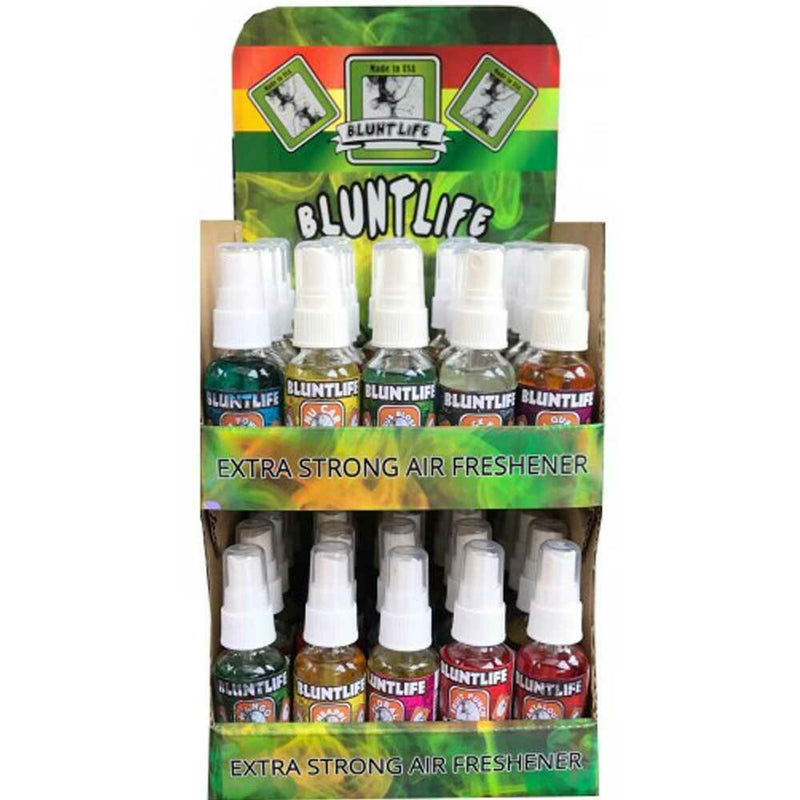 | | |
| --- | --- |
| Brand | BluntLife |
| Item | Air Freshener Spray |
| Colors | Assorted |
| Volume | 1 Ounce |
| Count | 50 |
| Packaging  | Bottle |
| Single Unit Price | $1.29 |
| 50 Count Price | $64.99 |
| Country of Origin | USA |


Product Information

COUNT: This item is sold in counts of 50. One order consists of 50 individual units of the item selected. The price of one unit is $1.29, meaning a 50 count is $64.99.
DESCRIPTION: BluntLife Air Freshener Sprays are designed to eliminate even the most extreme orders. Just a spray or two will fill the air with your favorite scent and provide hours of odor elimination. 
ASSORTED: Blunt Life Air Freshener Sprays are sold in assorted packs of 50. This means that one order will get you 50 different flavors, you will not receive two of any flavor. If you order several sets we'll do our best to ensure you receive every scent available. Please scroll below to view the scents Blunt Life has to offer.
Highlights
ABOUT: BluntLife is a well-established American brand. Their products are developed and produced in the USA. The company is both experienced and knowledgeable having been in the fragrance industry for over 20 years. During this time period, they have produced a wide variety of fragrances and aromas. These aromas are both pleasing and unique causing the company to stand apart and rise to popularity. Their products are widely distributed through a network of wholesalers and are primarily sold in convenience stores.  
DISPLAY: BluntLife likes to ensure that their customers find every transaction to be as convenient as possible. As a result, they package their air freshener sprays in specially designed displays. Many store owners find this extremely convenient since the packaging saves a lot of time and effort. They no longer have to buy or clear a shelf for new inventory, instead, they can just open the package and place the display on a counter.  
ASSORTED: As stated above, this product is sold in assorted packs of 50. One order consists of 50 different flavors. Many store owners find this method of packaging to be extremely convenient. This is because it saves both time and labor. Since the display already comes with several different flavors, store owners don't have to spend time picking the flavors they desire. Instead, they just order the item and open the display when they receive it.  
MADE IN USA: BluntLife Air Freshener Sprays are made in the USA. They are hand-dipped and treated with extreme care.  
FLAVORS: These are some of the scents you may receive: American Dream, Baby Powder, Black Ace, Black Love, Black Rain, Bling Bling, Butt Naked, Cool Baby, Dark Kush Egyptian Oud, Floral Bouquet, Friends, Hip Hop, Juicy, Just Chill, Lick Me All Over, Vanilla Fusion, And more...