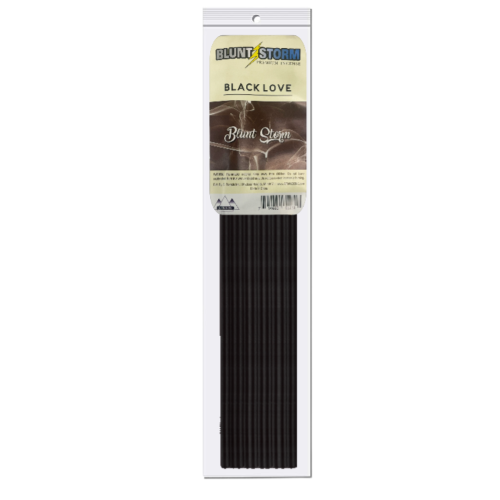 | | |
| --- | --- |
| Brand | Blunt Storm |
| Item | Incense Sticks |
| Type | Regular |
| Scent | Black Love |
| Count | 12 |
| Packaging  | Clear Bag |
| Stick Length | 11 inches |
| Sticks Per Pouch | 12 |
| Single Unit Price | $0.54 |
| 12 Count Price | $6.50 |
Product Information 
COUNT: This item is sold in counts of 12. One order consists of 12 individual units of the flavor selected. The price of one unit is $0.54, meaning a 12 count is $6.50.
BLACK LOVE: A mild blend of earthy and sweet notes. 
DESCRIPTION: Burning Incense are used to freshen up the scent of indoor areas. They are made of natural materials that create a fragrant, aromatic smoke when lit. The item is used for spiritual purposes, self-improvement, and odor elimination. 
HOW TO USE: To use put the stick in an incense holder, and light the tip of the stick with a lighter or a match. Once it catches, you gently blow out the flame. The stick will continue to smolder with a red ember at the end, releasing aromatic smoke. 
Highlights
ABOUT: Blunt Storm is a company that specializes in the production of fragrance-related products, specifically air freshener sprays and incense sticks. They currently offer 14 different flavors, each flavor has been tested rigorously to ensure customer satisfaction. The company is dedicated to spreading peace, love, and harmony through their fragrances. They can be used for spiritual purposes, to stimulate creativity, or just freshen up the scent of a room.  
USAGE: These incense sticks can be used for a variety of purposes including religious events, weddings. aromatherapy, spas, meditation, healing, yoga. sensual therapy, positivity, and relaxation.  
REGULAR: These incense sticks are the standard size. However we also offer a Jumbo Version, this version posses a much thicker width, which causes a longer burn time. Click the link shown, if you wish to purchase this item.
12 STICKS PER POUCH: A single unit consist of 12 incense sticks. Each stick is 11 inches in length. 
14 DIFFERENT FLAVORS: Blunt Storm currently offers 14 different flavors. Armani Type, Baby Powder, Black Cherry, Black Love, Chanel No. 5 Type, Cool Water Type, Egyptian Musk, Fast Money, Jasmine, Lavender, Money Blessing, Sex on the Each, Strawberry, and White Diamond. 
AFFORDABLE PRICING: Here at Legend Distributors we prioritize customer satisfaction, this is why we constantly try to list our items at the lowest price possible. Our team works relentlessly to keep the cost of production down and provide our customers with a low and convenient price.