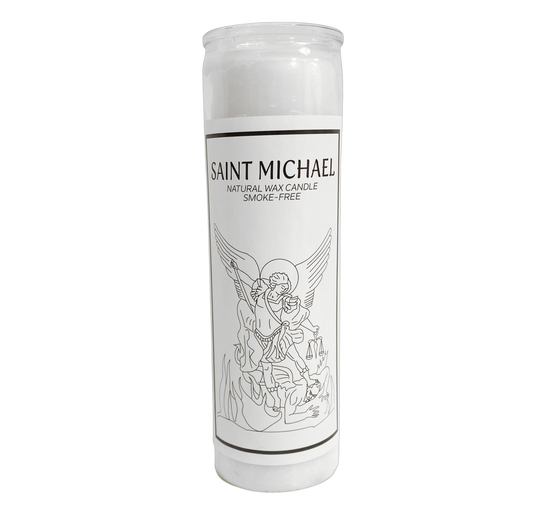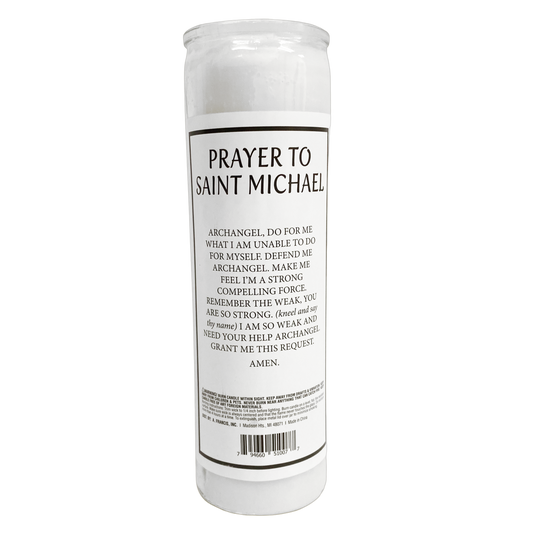 | | |
| --- | --- |
| Brand | Generic |
| Item | 7-Day Candles |
| Scent | St. Michael |
| Count | 12 |
| Packaging | Glass Jar |
| Single Unit Price | $2.25 |
| 12 Count Price  | $27.00 |


Product Information

COUNT: The item is sold in counts of 12. One order consists of 12 individual units of the item selected. The price of one unit is $2.25, meaning a 12 count is $27.00.
DESCRIPTION: 7-Day prayer candles are typically used at home or at religious events. Their pleasing aromas and appealing aesthetic help create an amazing spiritual environment. The candles come in 8 1/2-inch glass jars filled with about 7 1/2 inches of paraffin and usually bear an image and a prayer. 
Highlights
GLASS JAR: Premium quality glass jar is used to store white wax, making it easier to carry and maintain
BURN TIME: Our 7-day prayer candles cannot be outlasted. They feature an incredibly long burn time, making them perfect for any occasion. They offer the reliability and consistency so many people desire. 
RELIGIOUS USE: Our 7-day prayer candles help create an amazing spiritual environment by using their appealing aesthetic and pleasing aromas. Use this candle in Church or at home to maximize your spiritual and religious experience. 
SAINT/PRAYER FEATURED ON CANDLE: Every single one of our 7-day prayer candles features a specific saint and prayer. The prayer is directly related to the saint, creating an educational and spiritual experience. Placing these candles in every room will ensure that there is always a prayer to recite. 
EMERGENCY SITUATIONS: Due to its long burn time, this item works great in any emergency or disaster situation. Having it on hand will guarantee both heat and light since it is not reliant on any batteries or bulbs.