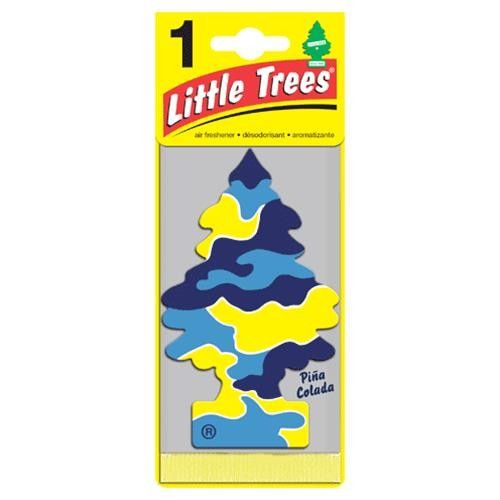 | | |
| --- | --- |
| Brand | Little Trees |
| Item | Hanging Tree |
| Colors | Piña Colada |
| Scent  | Pineapple, Coconut, Vanilla |
| Count | 24 |
| Packaging  | Clear  |
| Single Unit Price | $0.63 |
| 24 Count Price | $15.00 |
| Country of Origin | USA |
Product Information
COUNT: This item is sold in counts of 24. One order consists of 24 individual units of the item selected. The price of one unit is $0.63, so a 24 count is $15.00
PINA COLADA: The mouth-watering combination of sweet pineapple and creamy coconut whisks you off to a tropical paradise.
#1 LITTLE TREES DISTRIBUTOR: For the past 30 years, we have been the #1 distributor of Little Trees in the Metro Detroit area. Thousands of stores have used our services due to its reliability and consistency.
Highlights

ABOUT: Little Trees are disposable air fresheners shaped like a stylized evergreen tree, marketed for use in motor vehicles, and most commonly seen hanging from rear-view mirrors. They are made of a specially formulated absorbent material produced in a variety of colors and scents.
BEST SELLER: Little Trees is a household brand. It was created in 1952 and quickly rose to popularity. Roughly 200 million are sold each year. The product is seen in stores across the world. It has proven to be both reliable and effective. This makes it a great item to provide in your store or wholesale. No matter where you are located, sales are very likely.
MADE IN USA: Little Trees are made in the United States. They are tested rigorously and held to high-quality standards. This ensures a premium fragrance experience made from only the best ingredients.
LONG-LASTING FRAGRANCE EXPERIENCE: Specialized proprietary technologies combined with exceptional fragrances deliver long-lasting quality results.

MORE THAN JUST A CAR AIR FRESHENER: Freshen up at home or on the road with the original car air freshener. Great to use in laundry rooms, garages, bathrooms, and pet odor areas.
CAR-FRESHNER CORPORATION: Little Trees are produced by the CAR-FRESHNER CORPORATION. This company is located in Watertown, New York. CAR-FRESHNER CORPORATION has stated that their company strives to create the best car air fresheners for both consumers and the environment. All fragrances meet or exceed the International Fragrance Association guidelines as well as our stringent internal safety standards.