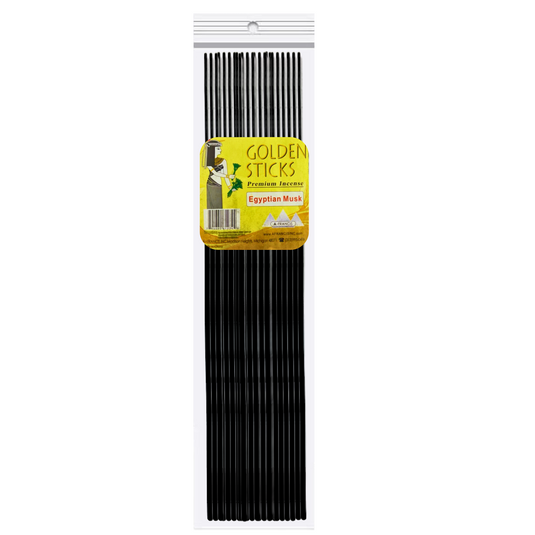 | | |
| --- | --- |
| Brand | Golden Sticks |
| Item | Incense Sticks |
| Type | Egyptian Musk |
| Count | 1 |
| Packaging | Clear Bag |
| Stick Length | 19 inches |
| Sticks Per Pouch | 50 |
| 1 Count Price | $7.50 |
Product Information 
COUNT: This item is sold in counts of 1. 1 order consists of one bag filled with 50 incense sticks. 1 bag is priced at $7.50.
EGYPTIAN MUSK: A woody, earthy, and pleasant aroma that is perfect for relaxing after a long, tiring day. 
DESCRIPTION: Burning Incense are used to freshen up the scent of indoor areas. They are made of natural materials that create a fragrant, aromatic smoke when lit. The item is used for spiritual purposes, self-improvement, and odor elimination.
HOW TO USE: To use put the stick in an incense holder, and light the tip of the stick with a lighter or a match. Once it catches, you gently blow out the flame. The stick will continue to smolder with a red ember at the end, releasing aromatic smoke. 
Highlights
ABOUT GOLDEN STICKS: Golden Sticks is directly affiliated with Legend Distributors. We are the owners of the company and have been operating it for over 30 years. When our wholesale initially began, many convenience stores requested different types of fragrances. As a result, we decided to start producing our own fragrances using both incense sticks and burning oils. We worked relentlessly to ensure our product was both satisfactory and profitable for our customers. We tested multiple flavors in many different markets over the years, eventually producing a multitude of aromas.  
USAGE: These incense sticks can be used for a variety of purposes including religious events, weddings. aromatherapy, spas, meditation, healing, yoga. sensual therapy, positivity, and relaxation.  
19 INCHES: These incense sticks are 19 inches in length, making it perfect for those who prefer longer-lasting scents. Each individual unit consists of 50 sticks. 
14 Different Flavors: As stated above, Golden Sticks has worked relentlessly to produce pleasant aromas. We currently offer 12 different flavors. Armani Type, Baby Powder, Black Cherry, Black Love, Chanel No. 5 Type, Cool Water Type, Egyptian Musk, Fast Money, Jasmine, Lavender, Money Blessing, Sex on the Each, Strawberry, and White Diamonds. 
AFFORDABLE PRICING: Here at Legend Distributors we prioritize customer satisfaction, this is why we constantly try to list our items at the lowest price possible. Our team works relentlessly to keep the cost of production down and provide our customers with a low and convenient price.