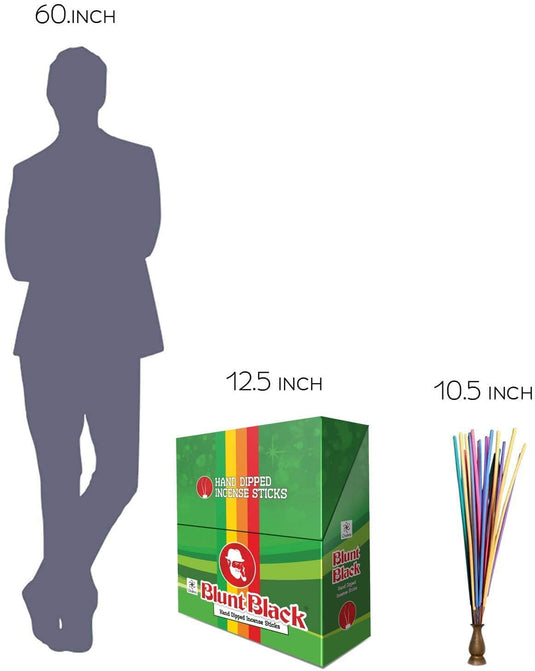 | | |
| --- | --- |
| Brand | Blunt Black |
| Item | Incense Sticks |
| Scent | Assorted |
| Dimensions (LxWxH)  | 12.6 x 10.83 x 3.98 inches |
| Weight | 4.48 pounds |
| Count | 72 |
| Stick Length | 11 inches |
| Single Unit Price | $0.34 |
| 72 Count Price | $24.99 |
Product Information 
COUNT: This item is sold in counts of 72. One order consists of 72 individual units of the variant selected. The price of one unit is $0.34, meaning a 50 count is $24.99.
ASSORTED: Blunt Black Incense Sticks are sold in assorted packs of 72. This means that one order will get you 72 individual units selected at random. We do not control the flavors you receive, however, Blunt Black does their best to evenly distribute flavors according to their popularity. Please scroll below to view the scents Blunt Black has to offer. 
DESCRIPTION: Burning Incense are used to freshen up the scent of indoor areas. They are made of natural materials that create a fragrant, aromatic smoke when lit. The item is used for spiritual purposes, self-improvement, and odor elimination.  
HOW TO USE: To use put the stick in an incense holder, and light the tip of the stick with a lighter or a match. Once it catches, you gently blow out the flame. The stick will continue to smolder with a red ember at the end, releasing aromatic smoke. 
Highlights 
ABOUT: Blunt Black is an extremely popular and reliable brand. Their long-lasting fragrances are said to bring serenity, creativity, and freshness. Their incense sticks are hand-dipped and treated with care. They offer 12 different flavors, each specially designed for your mind and soul. Please scroll below to view the scents Blunt Black has to offer. 
ASSORTED: As stated above, this product is sold in assorted packs of 72. One order consists of 72 individual units with the flavors being selected at random . Many store owners find this method of packaging to be extremely convenient due to the amount of time it saves. Since the display already comes with the flavors preselected, store owners don't have to spend several minutes sorting through every flavor. Instead, they just order the item and open the display when they receive it.  
DISPLAY: Due to its premium packaging, the product can be hung anywhere. However, when a pack of 72 is ordered, the package is placed in a bigger box that holds all 72 units. The box doubles as a display. Many store owners appreciate this feature since the display is both appealing and convenient. 
ELIMINATE NEGATIVITY & DULLNESS: Whether you are burning these fragrance sticks for Yoga, Meditation or Spiritual Purpose, these hand-dipped incense sticks allow you to calm your mind and body, and focus on the good things. You can focus on what you are doing, leaving all the stress and anxiety behind. Fragrances like Love Saga, Citrus Fusion, and Wild Wonder engage you by creating an active atmosphere whenever you need. 
BEAUTIFUL PACKAGING & QUALITY ASSURED: Easy to use and attractive packaging of this Blunt Black 10.5 inches incense sticks series makes it an ideal gift for your friends and relatives on special occasions and festivals. Whether you want a delightful aroma and fruity-delicious scent of the Jamaican Fruit Incense sticks or the refreshing citrus fusion to boost up your mood, and lift up your soul, you get everything in this incredible incense sticks box. 
CHAKRA: 100 percent quality assured product by Chakra/ Always be conscious of where you burn your incense and what it might come in contact with. (Colors of the incense sticks may vary) 
FLAVORS: These are some of the scents you may receive: BLACK MASTER, JAMAICAN FRUIT, DRAGON BLOOD, CITRUS FUSION, BLUNT BUOYANT, BARE BLISS, COME TO ME, OPIUM, LOVE SAGA, THE SENSUAL, WILD WONDER, FRANKINCENSE FIESTA